Since 1928, as Houston evolved from small town to international city, there has been a feed store on its two-acre plot along North Main Street. Today, nearly a century after it first opened, the store proudly stands as one of the oldest businesses in Houston and one of the oldest Purina feed and garden stores in the United States.
J.C. Millis built the store in 1928.  Back then, all feed store fronts were uniquely painted so customers could easily recognize the brand of feed they carried.  The building was painted with red chains on its facade, and the business was established as a Red Chain brand feed store.
Mr.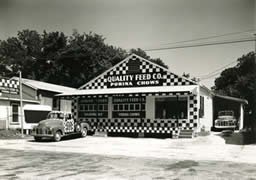 Millis owned the store until 1938 when he sold to Albert Romund.  A monster of a man, Albert could lift two 100 pound feed sacks – one in each hand!  Known as "Slim" by most folks, Albert was offered a prestigious Purina franchise deal. He eagerly accepted.
As a new Purina dealership, the old store was re-painted in the traditional Purina red and white checkerboard style with blue trim, and the store was renamed Quality Feed Company.  You can still see evidence of the old paint job on store walls.
In 1949, Albert became unexpectedly ill, and his brother-in-law Alton Behrend, who had just returned from naval duties in World War II, purchased the business . Alton became the new "Slim" and served as sole proprietor with help from his sister Lydia Romund, Albert's wife.
At the age of 70, Alton decided to retire. He became friends with longtime customers Chris Bules and Ken Cousino and took them under his "wings" to teach them the business.  After a simple handshake deal, Chris and Ken purchased the store in 1991.
Ohioans by birth, and Texans since 1983, both Chris and Ken have agricultural backgrounds in livestock production, and farming grain and alfalfa crops. The feed and garden business turned out to be a great opportunity for them to build on those experiences.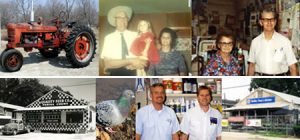 In 2001, the feed store's name changed again to Quality Feed & Garden, Inc. as its products and services changed to meet the evolving needs of animals, lawns and gardens.  But the ambiance, personal service, reasonable prices, and  expertise have stayed the same.
For nearly a century, Quality Feed & Garden Company has served the community as a vital headquarters for gardening and animal care.   With the overwhelming outpouring of support from new generations of customers, the business continues to thrive and grow on its two-acre plot along North Main Street.