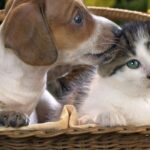 We love your pets almost as much as you do.  Our management has decades of experience with pets and can offer advice on everything from food to wellness options.  We strive to offer the best of everything they need for a healthy and happy life. 
Treats, Accessories, Supplies
Cat treats and catnip
Sportmix dog biscuits in 1 lb. and 20 lb. sizes
Wysong organic pet treats
Grain-free beef, chicken, peanut butter, and cheese flavored treats
Rawhide bones, pig ears and chew hooves
Real Bones and chew treats made in the USA by Smokehouse Pet Products
Medications and Wormers
Cat litter – Tidy Cat, Litter Pearls, Arm & Hammer in traditional clay and scoopable alternatives
Vaccines & syringes, including a possible vaccine schedule for dogs
Pet Kennels by Precision Pet Products
Vitamins and mineral supplements
Nutritional supplements for hip and joint care, sensitive skin & tender stomach
Grooming supplies including brushes, clippers, and nail trimmers
Organic & synthetic shampoos, dips, and sprays
Treatments for fleas, ticks, mange, skin problems, infection, and wounds
Feline Advantage, Canine Advantix II, and Frontline Plus for Dogs and Cats
Bowls, including vacation feeding and watering solutions
Collars, leads, and harnesses by Valhoma Corporation
Chains, muzzles, snaps and links
Fido Shock electric fence kit
Poop scoopers
Milk replacers — KMR, Esbilac, Milkmaster & Land O Lakes ProNurse
At Quality Feed & Garden Company, we take pride in seeking out American made products!  Let us help you make the best choices for your pets!