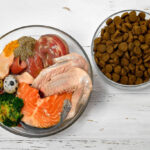 Our pet food offerings are among the best on the market.  Our brands include premium selections as well as a range of moderately priced options to suit any farm or home budget, all containing the quality your pets deserve. We source only foods made exclusively in the USA!
Pet food selections include:
Raw diet

K

ibble formulas

Wholesome digestible grains like rice and oatmeal

Grain-free alternatives that contain sweet potatoes, vegetables, eggs, flax and fruits

Foods high in omega 3 fatty acids, g

lucosamine and chondroitin that help keep large breed pets more buoyant in their hips and backs

Foods with "cooler" proteins like duck

Higher oil proteins like salmon and lamb for pets with sensitive skin and stomachs

All natural and USDA certified organics
We also offer vegan selections for our vegan pets!  And if your pet has special dietary needs, such as weight control, we have selections that build healthier, happier pets.  
Need help selecting the best option for your pet?  When you come to our store, we can explain the differences in the pet foods we sell so you can make the best decision for your pet!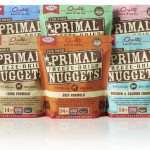 Primal Raw Frozen Pet Foods — Primal Formulas are produced using only the freshest, 100% human-grade ingredients.  The poultry, meat and game are antibiotic and steroid free without added hormones.  Primal incorporates certified organic produce, certified organic minerals and unrefined vitamins to fortify our complete and balanced diets. All Primal Formulas contain fresh ground bone for calcium supplementation. This combination of ingredients offers optimum levels of the amino acids (protein), essential fatty acids, natural-occurring enzymes, and necessary vitamins and minerals that are the building blocks for your pet's healthy biological functions. All of the ingredients found in Primal Formulas are procured from ranches and farms throughout the United States and New Zealand that take pride in producing wholesome raw foods through natural, sustainable agriculture.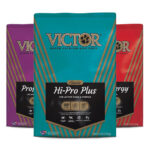 Victor Pet Foods — Made right here in Texas, Victor is among our best selling pet food brands.  All Victor Pet Foods are formulated using the latest advancement in Canine and feline nutrition.  This 5 star pet food on nearly every review site offers several food choices including a beef, chicken and pork trio; ocean fish; chicken and lamb combo, lamb, beef, or chicken.  They allow the pet food purchaser the choice of a wholesome grain enriched or grain free alternative diet!  Victor takes pride in keeping pet food formulas up-to-date with the latest advancements in nutrition.  As an example, the company was one of the first two pet food companies in the United States to use selenium yeast as the sole source of added selenium in all of its diets!  Victor uses a combination of scientifically advanced natural based ingredients that work to support healthy skin & coat, healthy digestive system, and a strong immune system.  
Chicken Soup for the Pet Lover's Soul —  Chicken Soup takes pride in being a family owned and operated business that offers wholesome and balanced, super-premium pet food to health-conscious customers.  The food is holistic which means its ingredients supply the entire body with everything it needs.  Bot the dry and wet pet food products are made from only the finest ingredients: real meat — chicken, turkey, duck, and salmon — as first ingredients, along with fruits, vegetables and herbs. With no added corn, wheat, soy, artificial coloring, flavoring or preservatives, Chicken Soup for the Soul pet food promotes overall health and well-being for dogs and cats. And every bit of this pet food is proudly made in the USA!
Blue Buffalo –  Made with only the finest natural ingredients and real meat in every formula, Blue Buffalo offers your pet the wholesome nutrition to support a healthy life for any breed at any age.  Our store offers the Life Protection, Freedom Grain Free, and Blue Wilderness formulas.   Blue Buffalo prides itself in providing the highest quality protein sources; the best fat sources that develop healthy skin and coat; wholesome grains, top quality vegetables and fruits; and "LifeSource Bits."  LifeSource Bits contain a precise blend of vitamins, minerals and antioxidants selected by holistic veterinarians and animal nutritionists. The Bits include ingredients help support your dog's or cat's immune system, support their specific life stage requirements, and maintain a healthy oxidative balance.  Blue Buffalo did all the work, which makes the decision about what to feed your pet a lot easier!
Maximum Bully – Packed with 32% protein and 22% fat, Maximum Bully All Life Stages Formula is made with Nupro 2000–a powerful yeast protein perfect for building strong muscles and optimum health.   The food was developed with multiple protein sources, amino acids, vitamins and nutrients for the perfect balanced diet for the bully breed.   It promotes a healthy digestive system and contains oatmeal, cranberry, probiotics, and pumpkin.  The company prides itself on including real chicken and pork meal as the first two ingredients for necessary energy, lean muscle, and muscle maintenance.
Diamond — "Every pet deserves the very best."  That's the idea that started it all back in 1970. Was it possible to produce high-quality, premium pet food at a price the average pet owner could afford? Fortunately, the answer was "yes." And today, Diamond Pet Foods is one of the fastest growing manufacturers of pet foods in the country, with brands trusted by professional breeders, trainers, veterinarians and nutrition-conscious pet owners in more than 100 countries worldwide.  Diamond is a family-owned company with strong Midwestern values.  And staying true to that original vision of making premium pet food affordable has never been compromised by outside, corporate thinking.
Exclusive – Exclusive offers lamb or chicken based pet foods, twice the meat of other brand name super premium pet foods on the market, flavors even finicky pets enjoy, and a very simple recipe. Clean carbs include brown rice and oatmeal. High in omega 3 fatty acids, with formulas containing glucosamine and chondroitin for maintaining healthy joints. Protein serves as an important purpose in your pet's diet. That's why all formulas start with chicken or savory, natural lamb as their #1 ingredient. These ingredients are an excellent source of high-quality protein for building strong muscles and lean, healthy bodies, are highly digestible for small stool volume, and are rich in essential fatty acids for healthy skin & coat. Not to mention, fresh chicken or natural lamb offers a taste your pet will love at every meal.  The company offers a frequent buyer program — After you purchase 8 bags over time, your 9th bag is FREE!  
Platinum Pet Foods Country Dog Food – This no corn, no soy, 100% complete and balanced nutrition formula is perfect for the maintenance of adult dogs of all breeds.  Country Dog is an economical food we believe in, and it's priced right for the price conscious consumer!
Country Acres – Our high quality economical pet foods from Purina Mills Inc., for both the dogs and cats.  The only company we've found that offers a 40 lb. bag of cat food!
Red Flannel – Each PMI Red Flannel formula has been researched by nutrition professionals and veterinarians. It meets, and often exceeds, stringent industry standards, exactly what you'd expect from America's leader in animal nutrition since 1894. So whether your pet is an athlete, an aging adult or your fuzzy, furry baby, rest assured we've designed a hearty, wholesome Red Flannel™ formula just for your pet…because a pet is another valuable family member!
Sportmix – Known among sporting dog owners, the Sportmix Energy Plus is a huge seller among our sporting dog customers! The Sportmix Bite Size offers a quality dog food at an economical price.  What you feed your dog or cat can make a big difference in its health and overall well-being. That's why it's important to choose a food that's good for your pet and one with a palatable taste.  Sportmix delivers all that and more. The selected high-quality ingredients in each of our Sportmix formulas deliver great taste, digestibility and 100% complete and balanced pet nutrition. This special balance of protein, fats, vitamins and minerals supplies the essential nutrients needed to promote strong muscles and bones and a glossy skin and coat.
Taste of the Wild – Our number one selling grain free pet food line that includes bison and venison, smoked salmon, wild boar, duck, venison, and lamb formulas. Carbs include sweet potatoes, fruits and vegetables.  If your pets crave a taste of the wild, go ahead and give them one!  Taste of the Wild produces premium, grain-free pet formulas that are based on your pet's ancestral diet. All formulas rely on ingredients like quality meats and probiotics that maximize the nutritional health benefits for your pets.  According to the Taste of the Wild folks, "It's the balanced diet that nature intended."
Wysong – Established in 1979, Wysong Corporation is one of the true pioneers in certified organic and naturally healthy pet foods, and holistic pet health care and nutrition. Conceived and led by Dr. Wysong, we are a family company that puts principle ahead of market.  Wysong views pet nutrition as a serious health matter, not a mere opportunity for profit.  The company maintains two goals:  #1 To arm pet owners with the knowledge needed to make sound nutritional and health decisions for their pets.  #2 To provide natural and holistic pet foods and cat & dog supplements scientifically formulated, and painstakingly manufactured and packaged for health optimization.  With thousands of testimonials, consumers agree that "Wysong Works!"