Co-owners Ken Cousino and Chris Bules took over the store in 1991 and have spent 25 successful years helping the company grow!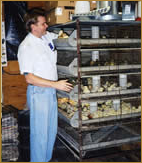 Ken's agricultural roots run deep.  His family farmed grain, alfalfa, poultry, hogs and cattle.  He was an avid  gardener and landscaper as a child.  Through the years, beginning in childhood, Ken has raised dogs, cats, quail, chickens, ducks, pigeons and doves.
Ken received a Bachelor of Science degree from The Ohio State University in 1983, and pursued graduate studies at the University of Houston.
Ken's childhood experiences, education, and professional experience, as well as more than 20 years as owner of the store, have made him a solid animal expert and gardening professional. You'll find Ken around town as one of Houston's local agriculture experts on a variety of topics!  Some of our customers refer to him as "Doctor Ken" for the knowledge he's shared and the assistance he continually provides to animal owners and gardeners.
---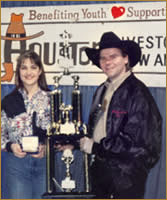 Chris Bules has loved animals all his life and once dreamed of being a veterinarian.  He raised many caged birds, doves, pigeons, dogs, cats and rabbits in his childhood and earned awards as a member of Future Farmers of America (FFA). Chris received a Bachelor of Science degree from The Ohio State University in 1983.
Today, Chris serves as the financial "backbone" of Quality Feed & Garden Company.  He works hard to keep prices low while maintaining the company's profitability.  As a lover of animals and breeder of rabbits and doves, Chris knew he found a home at Quality Feed that allowed him to do what he loved.  He is able to apply all of his talents, and for mover 20 years he's shared that knowledge with our customers.