For the lawn or garden, Nature's Creation is a Texas fertilizer coming out of Ft. Worth.  In addition to fertilizers, the company offers several choices for organic gardeners in controlling insects and diseases as well.    Their fertilizers include: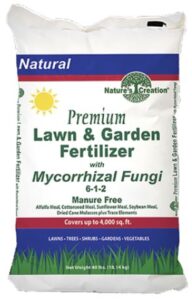 Premium 6-1-2 ♦  An alfalfa based, animal manure free, slow release fertilizer, this Nature's Creation premium blend is an excellent choice for gardeners who wish to avoid animal products in their fertilizer. Rich in "secret ingredient" Triacontanol a natural growth stimulant, formulated with seaweed and humates. Non-burning in easy to spread pellets, Nature's Creation 6-1-4 produces healthy roots and lush growth in lawns, flowers, vegetable gardens and container plants, and is clean, green, odor free and pleasant to use.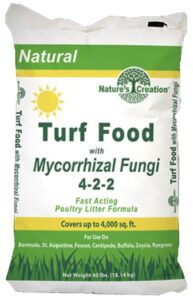 Natural Turf (and garden too) 4-2-2 ♦ Nature's Creation 4-2-2 Fertilizer blends quality poultry manure with molasses, seaweed, humates, alfalfa and potash to create a high quality organic product for your garden. Great for all types of outdoor uses, including lawns, gardens, trees, and shrubs. The easy to apply pellets, like all Nature's Creation products, are safe for children, pets and wildlife.  It's a little stinky at first, but that good ole country smell quickly dissipates after application.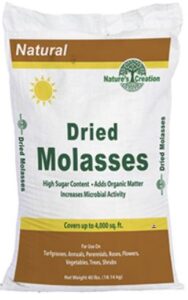 Dried Enriched Molasses ♦ If you do absolutely nothing but molasses, you can still grow healthy plants and lawns!  During the drought years, our owner Ken applied only this slow release product to his lawn and gardens as a gentle way to feed but not push stressed plants.  Molasses kept his plants and soil healthy despite the lack of rain, and he maintained a beautiful lawn and garden!  Molasses feeds the microbes in the soil, they "eat" the nutrients that are more easily absorbed by the plants.  Air dried to insure optimum biological activity, it's a granule that's easy to apply with hands or spreader. High in sugar, most organic gardeners use molasses with natural fertilizers.