With a lifetime of knowledge and more than 35 years of involvement in Houston's racing pigeon sport, our owner Ken knows pigeons and understands pigeon health!
He has served as President of the Northside Limited Racing Pigeon Club, Vice President of the Greater Southwest Racing Pigeon Combine, and Vice President of the Gulf Coast Homing Pigeon Association.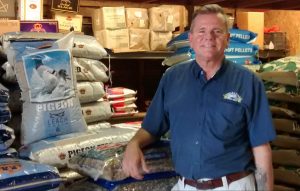 Because of our love for birds, Quality Feed & Garden Company has grown to become the largest supplier of pigeon and dove products on the Texas Gulf Coast.  Let Ken and his team help with your bird health and maintenance!
Supplies
Bullet waterers
Grit feeders
Plastic and wooden feeders
Medications & Probiotics
Wormers
Vaccines (special order requests please)
Supplements from around the world
Crates and loft scrapers
Bath salts
Loft dressings, insecticides and disinfectants
Disposable nest bowls
Baled pine straw
Customized Feed
It may surprise people to discover that pigeons can be kept as pets. Pigeons are calm birds that are easily trained and inexpensive to maintain.  And we love to help with your feeding program.  Let us help customize a blend that will help with your show and race performance!
Ingredient Seeds  (Some require special ordering, and many are available by the pound!)
Barley, Canola (Rape), Flax, Safflower, Oat Groats, Wheat, Red & White Milo, Whole Yellow Corn, Popcorn, Red & White Millet, Canary Seed, Black Oil Sunflower, Green Peas, Yellow Peas, Maple Peas, Austrian Winter Peas, Black Oil Sunflower
---
Feed Offerings
Dove Mix -- Ken developed his own balanced dove food recipe which is produced by our friends at Utah Seed, Inc.  This proprietary blend is enriched with probiotics for optimum bird health. It is available in a 25 lb. bag or by the pound.
Pelleted Pigeon Feeds
Purina Nutriblend Gold -- Round, golden, grain-shaped pellet diet, 15 percent protein, for conditioning or maintenance.
Purina Nutriblend Green -- Round, Round green pellet shaped complete diet, 18 percent protein, a breeder pellet.
Grit Selections
Kaytee Bay-Mor Hi-Calcium Pigeon Grit -- Available in red or grey (grey is best for breeders who raise white pigeons as it eliminates staining), grit is a necessity when feeding a grain-based diet. In addition to promoting proper food digestion, it provides many of the essential nutrients usually lacking in typical pigeon grains.
Ingredients:  Calcium Carbonate, Granite Grit, Oyster Shell, Salt, Charcoal, Anise Oil, Zinc Oxide, Manganese Oxide, Ferrous Carbonate, Copper Oxide, Iron Oxide, Calcium Iodate, Cobalt Carbonate.  Guaranteed Analysis:  Calcium (min)...25.0% Calcium (max)...30.0%
Lind Marine Oyster Shell -- Offers plenty of calcium at 36%, and prevents hens from laying soft-shelled eggs.  It's often blended with the pigeon grit.