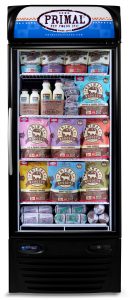 Quality Feed & Garden Company is proud to carry the Primal Pet Food line - whole, nutrient dense raw foods for your fur family.
Primal products are based on your pets natural eating habits. They are formulated with the unique nutritional needs of each species.
Primal Pet Foods contain:
100% USDA inspected proteins sourced from sustainable ranchers, ethically raised, humanely sourced
Organic fruits & vegetables
Non-synthetic vitamins & minerals
Just as important is what Primal Pet Foods do NOT contain:
No antibiotics
No steroids
No hormones
No preservatives
Primal is the path to your pets best life - as close to nature as possible, allowing them to live longer, healthier, more vibrant lives.
Here is a sample of our Primal Pet Food products.  Come by to see the whole line.